Manaus: Capital of Amazonas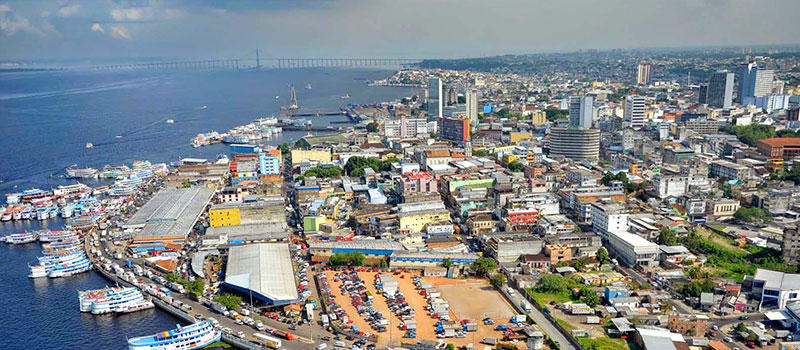 Manaus is the capital of Brazil's largest state, Amazonas, and is located in the Northwest of the country. It is an ideal starting point when visiting the rest of the Amazon region. Tour boats leave Manaus to see the Meeting of the Waters, where the black waters of the Negro River meet the white waters of the Solimões River, flowing side by side without mixing for several miles. Visitors can also explore riverbanks and streams, swim and canoe in placid lakes or simply walk in the lush forest.
What can we do there?
Meeting of the Waters

Duration: 8 hours

Depart from the Manaus hotel and while sailing down the river, guests can see the floating port of Manaus with typical Amazonian style boats and the municipal market. After a short stop at the unbelievable 'Meeting of The Waters', where the Rio Negro and the Solimões Rivers join to form the Amazon River, we will continue sailing up the Rio Negro until reaching the Janauary Ecological Park where the famous Vitória Regia (Giant Lily pads) can be found. Soon after, a ride in a motorized canoe through igarapés (creeks) that connect to the Rio Negro and the Solimões Rivers (during the dry season from February to September, we will substitute this with a jungle hike). Lunch will be served at the floating restaurant, followed by a visit to the Indigenous artisans fair. Return to the hotel.

City Tour with Opera House

Duration: 3 hours

Depart from Manaus Hotel, driving 11 miles on Ponta Negra road (river front) to the floating port of Manaus. Followed by a brief stop at the Rio Negro Palace, the old official residence of the governor, and a beautiful example of architecture from the rubber boom and golden period in Brazil. Visit the Indian Museum, and the Salesian Congregation, an interesting place to understand the traditions, habits and culture of the indigenous populations. Next, a brief stop at the Justice Palace and the Opera House, a fantastic theater opened in 1896, without a doubt one of the main attractions of Manaus, and an extraordinary symbol of the wealth and opulence of the rubber boom and golden period of the city. Return to the hotel.

Pink Dolphin Tour

Duration: Half Day

Departure from Manaus hotel pier and embark on a speed boat towards the Acajatuba Lake or Ariau Creek. Here the visitors will see the freshwater dolphins of the Amazon and will have the opportunity to feed them and also swim along with them too. Afterwards the passengers will visit the community of "caboclos" (natives) and learn more about their habits and traditions as well as check out their handicrafts which are their main source of income. During the trip back everyone will enjoy the beautiful scenery of the area surrounding the banks of the Amazonian rivers, also with a chance to spot some species of birds and other animals.