Regional Highlights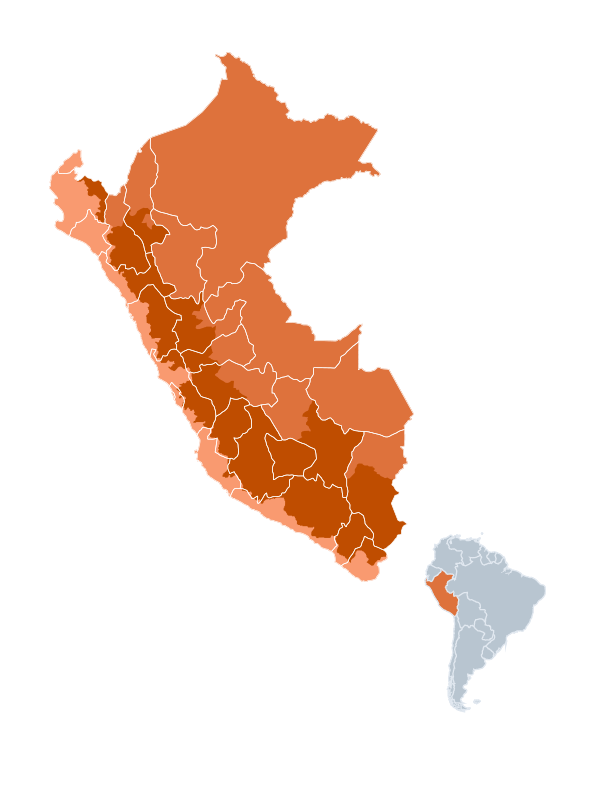 General Information
Location: Peru is the third biggest country of Latin America (surface approximately 1,3 km2) – it is situated in the Northwest, south of the equator. The country borders on Ecuador and Colombia in the North, on Brazil and Bolivia in the East, on Chile in the South and on the Pacific Ocean in the West.
Population: Approximately 29,8 million, half of the population still consists of Indígenas, speaking Quechua or Aymara, approx. 37% are mestizos and approx. 13% whites.
Capital: Lima, population approx. 9.3 million
Politics & Economy: The country is governed by a presidential democracy. Peru is an agrarian country and 50 % of the active population works in the agrarian or forestry sector or lives from fishing. Tourism is an important foreign-exchange earner of the Peruvian political economy and is sponsored emphatically by the government.
Currency: Peruvian Nuevo Sol
Language: Spanish, also called Castellano. Second language is Quechua.
Climate: On the coast it hardly rains and from January to March the sky is always blue. From May to November you often have the typical "garúa", a dense fog covering the sky. A temperate rather cool mountain climate is dominating in the Andes, where we have the dry season from May to November.
Best Travel Time: Best times to travel are varied:
Coastal region: from December to April are the hottest months. Between June and September is the coolest and dampest time of year. During the rest of the year light clothing, a sweater and long trousers are suggested.
Highlands: The best time to visit the highlands is April to October, when there is no rain and the days are sunny, with daytime temperatures up to 24°C (75°F), but at nights it can fall to -3°C (27°F). The rainy season is from November to March.
Jungle: the warm, wet and rainy climate with temperatures above 35°C (95°F) in the low jungle during the months of April to October make this the best time to visit. The high jungle has a temperate subtropical climate with a lot of rain between November and March and sunny days between April and October.