Amazon (Peru): Explore the rainforest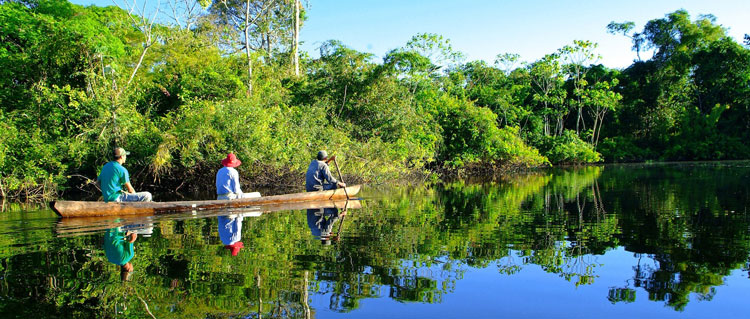 All their itineraries have been carefully crafted to showcase the best flora and fauna that the Marañon and Ucayali Rivers in the Pacaya Samiria National Reserve have to boast, along with offering ideal soft adventure excursions for travelers to further discover the secrets of the Peruvian Amazonia.
Itineraries vary based on whether the travel dates fall in the high water/rainy season or low water/dry season.
All activities are optional, although they encourage all guests to tempt their adventurous side. 2-3 times daily excursions (one in the morning, one in the afternoon) may include but are not limited to kayaking in the calm creeks and lakes, swimming with dolphins, fishing for piranhas at sunset, skirting the riverbanks in search of playful creatures, birdwatching, trail walks, and visits to local communities to interact with the native people. Optional early bird watching excursions before breakfast are also available for those who are up for the challenge!
We invite you to take a look at these great experiences!
Expeditions
Vessels
The Delfin I

Their new and refurbished Delfin I takes you one step beyond luxury, where comfort and grace combine effortlessly with the wilderness of the Amazon to create the most unique and personalized vessel to ever sail in the Peruvian Amazon region. In a setting of understated elegance and world-class hospitality, this classic river vessel features 4 oversized suites, all with private panoramic terraces; 2 offer a private whirlpool for the ultimate treat.

The Delfin II

Delfin II has 14 large guest suites include 4 Master Suites with 180° panoramic windows, and 10 Suites, 4 of which can be interconnected to accommodate families. Each with movie screen sized windows and natural elements, they offer all the comforts provided by world class lodging yet with the spirit of casual and refined elegance while you sail in the Peruvian Pacaya Samiria National Reserve.

The Delfin III

The newest vessel, the Delfin III, offers guests an immersive rainforest experience while simultaneously treating them to the highest levels of luxury. This brand new vessel is also the largest in Delfín´s fleet, with capacity for up to 43 passengers. The ship has been beautifully finished with the finest details, hardwood floors, designer furniture, and handmade Peruvian artifacts.