Galapagos Cruises: Admire the island's flora and fauna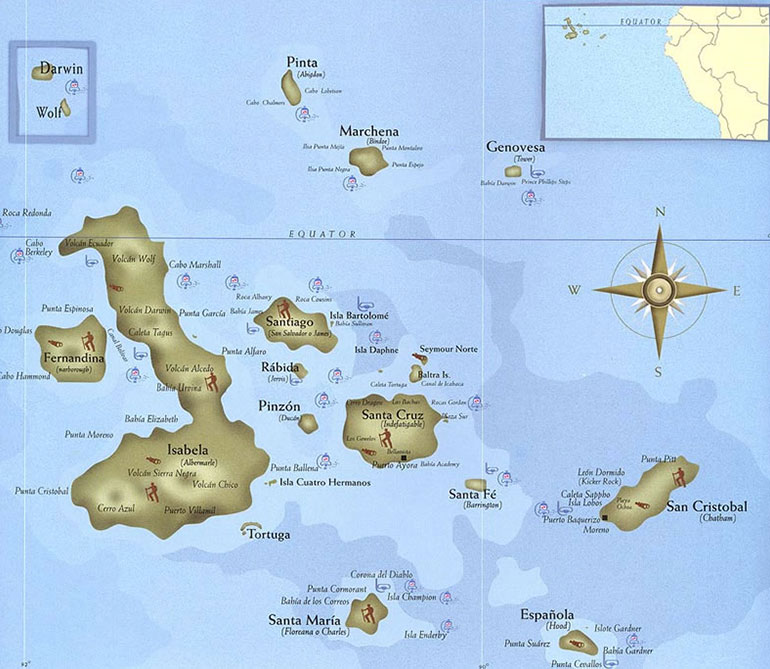 Everybody is welcome to the volcanic islands filled with natural history, amazing animals and adventure. Trek through lava flows, dive into new worlds, get to know unique wildlife and nature, but overall, this is the perfect place to relax and enjoy your vacations.
The Galápagos Islands belong to the Ecuadorian territory and are located in the Pacific Ocean over the equator, at 960 km from the continent, equivalent to 600 miles. The archipelago is constituted by 13 greater islands and more than 200 islets and rocks that cover about 8.010 km2.
The volcanic eruptions and the geological changes had created these 13 greater islands, 6 medium and more than 42 small islands and islets that were formed 6 million years ago. Not only Galápagos geography is wonderful, but its flora and fauna which gave an incentive to the interest of Charles Darwin.
The Islas Galápagos have no comparison with any other place in the world and are, without overreact, one of the earth's wonders. Is not only a National Park, but professed Natural World Heritage Site. The Baltra island is protected zone, and is where the airport is established and base of the Army and the Air Force of Ecuador.
In the protected regions we find three subsystems: Park, Marine Reserve and Human Settlements. The submarine chain CARNEGIE RIDGE joins the archipelago of Galápagos with Sudamérica and the Cocos Ridge links with Central America, although these submarine chains never integrated America.
About Galápagos Islands
Bartolome Island presents incredible volcanic landscapes, that are rock formations and volcanic ashes, and a fauna composed of coastal birds, lizards and grasshopper where people occasionally can see penguins. In the Santiago Island in Puerto Egas people can see migrant coastal birds, sea lions, marine iguanas, seals of two hairs, terrestrial birds and landscapes with lava formations and volcanic ashes. The Rábida Island shows us marine lions, with beaches and red land, with lots of lava lizards, terrestrial birds, flamingos and pelicans.
The Isabela Island in Punta Vicente Roca shows its crystalline waters with diversity of fishes and rests of volcanic materials, watching different types of lava, with the presence of seals, gulls, Galapagos' swallows, masked piqueros, piqueros of blue feet, and if we are lucky, dolphins. If we continue with the Islas Galápagos in the North Seymour, we see marine lions, gulls of bifurcated tail, frigate birds, piqueros, lizards, terrestrial birds, terrestrial iguanas and seals of two hairs.
In Santa Cruz, in the Parte Alta (El Chato) we observe terrestrial turtles in natural condition, terrestrial birds, and lava tunnels. Bachas is a coralliferous beach with coastal birds, a marine turtle's center, small lagoons where people can occasionally see flamingos. In Caleta Tortuga Negra people can see nesting gulls, Galapagos' swallows, masked piqueros, piqueros of blue feet, seals and hardly ever dolphins.
In Floreana Island (Punta Cormorant) we watch marine lions on dry vegetation surrounding of lagoons and terrestrial birds such as flamingos, lizards, and with beaches of coralliferous sand with marvelous landscapes and the oldest mail of Galápagos.
In Bahía Gardner (Punta Suarez) in Española Island, we see colonies and large groups of marine and terrestrial birds. The most surprising are the albatross, marine iguanas, endemic lizards of the island, marine lion's colonies, Galápagos turtles beside volcanic landscapes generated by lifting with their cliff. Fernandina Island (Punta Espinoza) is one of the most virgin islands of the earth, with colony of marine lions, marine iguanas, zayapas, no flying cormorants, hardly surrounded of coastal vegetation with manglares by lava fields and volcanic landscapes.
The itineraries to Galapagos Islands are organized with three expedition ships: The M/V Galapagos Legend (for 100 guests), the M/Y Coral I and M/Y Coral II (for 36 & 20 guests respectively). We offer spacious decks, comfortable lounging areas and a wide variety of cabin and suites. Your comfort and enjoyment is our priority.
The fleet complies with the official requirements of the Galapagos National Park as well as local and international maritime authorities. They adhere to a strict policy of ethical treatment and protection towards the fragile environments in which we operate.
Their social areas, like the bar, are worthy of spending a time for distraction. The kitchen service is as good as the best luxury restaurants, presenting a complete breakfast buffet with homemade bread, as far as elaborate dinner menus, tasted and made by professional chefs. From Ecuador's gastronomy, with variety of exotic fruits, to special menus for the kids or for special diets.
The crew and the guides are an enthusiastic multilingual staff with a multidisciplinary background, and that are driven by a passion to organize and create the most value-rich travel experiences.
The cruises includes full board, two daily guided excursions with optional activities such as snorkeling, kayaking, dinghy rides and new feature daily diving tours for license-holding divers.
The reservations of the most luxurious and top quality cruises are made in advance. To go to Islas Galápagos is necessary to take a flight that lasts about 2 hours from Guayaquil or Quito to the Baltra Airport or San Cristóbal. In the cruises you would discover Galápagos at its utmost. The average time of the trip to the Islands is of 3 or 7 nights, depending on the navigation and expedition selected.
Expeditions
Vessels
M/V Galapagos Legend (Boutique Expedition Cruise)

This magnificent vessel, with a capacity for 100 guests, has the charm of The Enchanted Islands; it is still small enough for a more intimate experience with friends and family. With her three different decks, the Galapagos Legend offers a great variety of comfortable and spacious social areas without losing its sense of intimacy. Its fantastic open decks allow you to admire the islands' flora and fauna, enjoy a BBQ at night, or take some sun at the pool and bar areas.

Take advantage of its spacious inside auditorium for important conferences. Our philosophy is based on an environment without any formalisms or strict etiquette.

The M/V Galapagos Legend has 52 ocean view, air-conditioned cabins plus 3 interior ones, each cabin counts with lower beds and private facilities in which a matrimonial, double, triple or quadruple options are available. We have suited a new cabin configuration to assure enjoyment for families and friends traveling together. Each cabin includes: safe, entertainment system with LCD TVs, hair dryer, special bedding, and updated furniture. Internal, local and international satellite telephone service is offered, Internet is accessible when anchoring in main islands. Voltage is set for 110-220 volts/60 Hz. The Balcony suites have private balconies and panoramic windows to immerse yourself within the vast landscape that you are about to witness and enjoy it privately. The Junior suites have three meters of panoramic windows to enjoy the scenery.

M/V Coral I & M/V Coral II (Boutique Expediton Yachts)

These gorgeous comfortable twin yachts offer charming areas distributed on three decks, with both open and interior spaces, allowing you to have an intimate expedition experience. With a capacity for 36 and 20 guests respectively, there is no doubt that the thrill and comfort are guaranteed.

The M/Y Coral I and the M/Y Coral II have a total of 18 and 11 cabins respectively. The Ocean View, air-conditioned cabins have lower beds and private facilities in which matrimonial, double or triple options are available. We have interconnecting doors suitable for families or friends traveling together. Each cabin includes: a safe, entertainment system with LCD TVs, hair dryer, special bedding in each category, and remodeled furniture in each cabin. Our voltage is set for 110-220 volts/60 Hz.